Architectural & Engineering
For architecture and engineering firms, project success drives business success. That's why your firm needs a solution that keeps your projects right where they belong—at the center of your business.
Deltek Vantagepoint is a leader in project and financial management solutions for A&E firms around the world. Because it's built for the way A&E firms work, Deltek Vantagepoint provides 360-degree visibility into your projects, helping you maximize productivity, boost collaboration, improve efficiency, increase profitability, and drive business success.
CRM and Pipeline Management
It's time to set your firm apart from competitors using Deltek Vantagepoint. Your world revolves around finding projects, pursuing and winning business and building client relationships. With Vantagepoint CRM and Pipeline Management, you have the ability to identify potential projects early, pinpoint and develop projects worth pursuing and position your firm to win. Once that happens, Deltek Vantagepoint helps you nurture client relationships so you can stay in touch with clients when it matters most.
Getting people who are right for each project makes it easier to deliver success. That's why we created Deltek Vantagepoint, a solution built for the way you work that will improve project performance and increase client satisfaction—an unbeatable combination. With Deltek Vantagepoint, you can pinpoint the right resources for your projects based on skills and availability, build profitable project plans with actual resources, optimize resource utilization, and gain insight into future capacity needs.
You need tools and resources to proactively manage projects every step of the way. Deltek Vantagepoint delivers complete visibility into every aspect of your project in one hub. From initial pursuit through close out, you can avoid schedule and cost overruns, identify potential risks, adjust projects to meet changing demands and expedite invoices to deliver successful projects.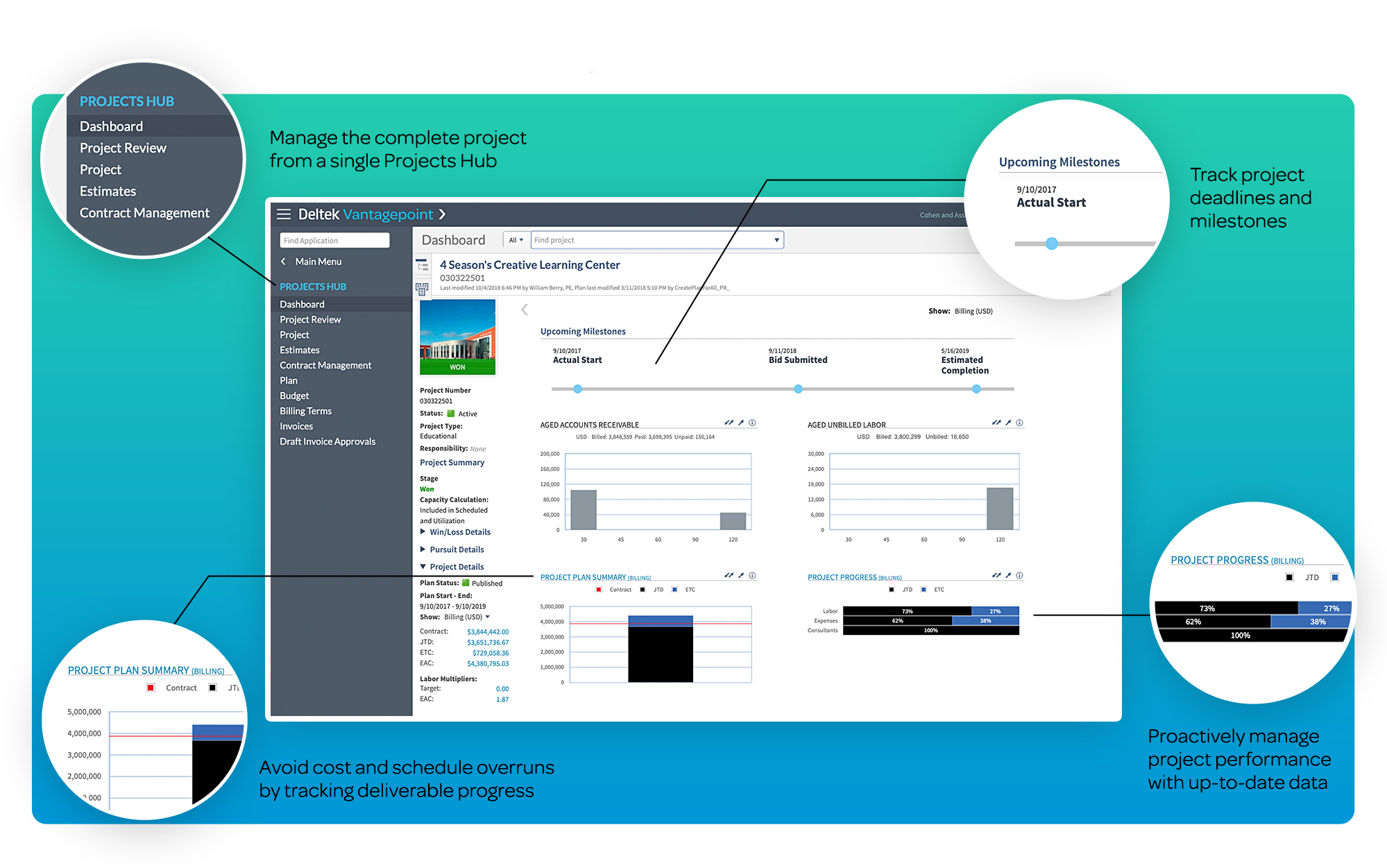 Accounting and
Financial Management

It's time to stop leaving money on the table. Deltek Vantagepoint provides everything your teams need to quickly capture time and expenses on any device, and you can improve cash flow by speeding up payment with interactive billing tools. Simply put, Deltek Vantagepoint gives you the perfect combination of flexibility and control: flexibility to meet your clients' needs and control to accurately manage your financials without all those pesky stacks of paper.
Reporting and Business Intelligence
To stay competitive, it's imperative that your organization gets the business intelligence you need to make quicker, better-informed decisions and drive your business forward. That can happen when you have complete visibility into every aspect of your business via Deltek Vantagepoint's interactive dashboards and easy-to-use reports. Deltek Vantagepoint delivers actionable insights into the health of your business so that you can hone in on potential challenges and highlight bright spots.
Industry Best Practice Guide
Recommendations for Architecture, Engineering and Consulting Firms
GET in touch
Let us help you find the right solution for your business